Sitting in a nest while relaxing and overlooking rice paddies, sounds and looks so dreamy right?
Well, think again.
As a newer travel blogger, one of the most fascinating parts of my journey has been noticing the difference of perception versus reality along the way. Maybe I am delusional, a dreamer, or an optimist, but as we arrived at our must-see locations (made famous by Instagram), at times it wasn't as we had expected. For instance, when we arrived to Bali we were excited to find those beautiful nests you often see that look like such peaceful places to sit, talk or read a book. I looked forward to finding one along our travels to have a picnic. I assumed, like with hammocks at a beach destination, that the nests would be easy to find. Not quite!
The picture above is our most popular post on our social media account (@thejetsettingfamily) to date. I love the photo to frame one day and am proud of the image itself, but as a travel journalist I feel the picture is misleading. Unlike most of our pictures that are candid, this photo was staged. It consisted of arriving early to avoid hour-long lines, pay a hefty fee (which included access to the nest and various swings), and climb up a ladder with an assistant helping for a mere 2 minutes to take this perfect picture. Let's just say accomplishing this with kids isn't a relaxing experience. The picture portrays a moment that, while it did happen, wasn't as glorious and peaceful as it may be perceived.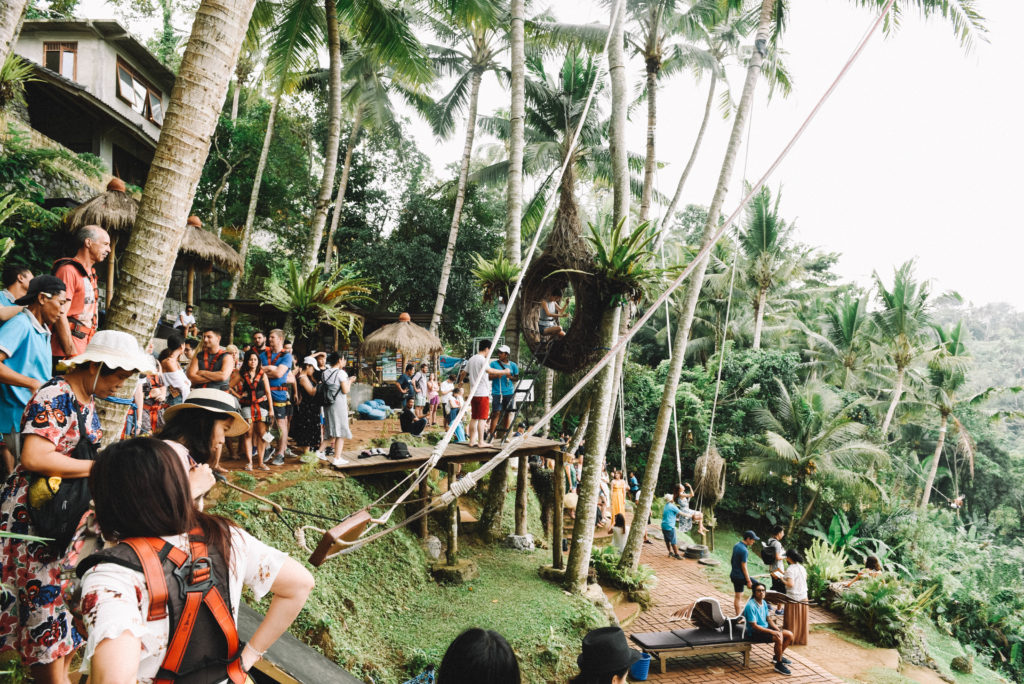 This isn't meant to take away the allure from the destinations we visit! We have loved our time in Bali and did enjoy our day at Bali Swing, which is more of an attraction park. You can ride a thrill-seeking swing, swim in a beautiful pool, see a waterfall, and take pictures in nests.
I write this not to shame ourselves or others, but to bring perspective. To some extent, we are all guilty of these moments as it is similar to when someone hires a photographer and have their family coordinate outfits, choose a location, and smile because there is an hour to get that perfect picture. For that one hour, there is pressure to capture the moment before the session ends and usually it isn't your favorite outing. For Instagrammers, I believe it is similar, just on a more frequent scale.
I must admit, I feel like the mean parent taking away the magic of Santa as I unveil the secrets, but Instagram captures highlights (whether staged or candid moments) and there is so much that goes on behind the scenes. These beautiful pictures help inspire travel and for that I am grateful, but we find it is important to be open, honest, and real. We want to be sure that if someone is inspired by the pictures we take that they truly understand what the experience would be like if they went in the future.
We hope as we continue our travels, we focus more on capturing the simple moments that mean most to us and that bring back fun memories even if they may not be as picture perfect. Don't get me wrong they will still be our highlights, but we hope that our journey can remain candid and something the kids don't feel is a chore to capture.  Of course, we will still go to popular tourist sites along the way, but hopefully ones that capturing a photo comes with a lot more ease. When we do fall for the occasional tourist trap or photo prop, we aspire to share the behind-the-scenes as well.
Thanks for reading and we hope that if you liked our article you take the time to share or follow along on our adventures at:
Instagram: https://www.instagram.com/thejetsettingfamily/
Facebook: https://www.facebook.com/thejetsettingfamily/
YouTube: https://www.youtube.com/channel/UCfs_jV3r8h8eAp3ENrzVHhQ