The Dhara Dhevi is a 60-acre resort that's about 10 minutes away from the Chiang Mai city center. Simply put, our time at the Dhara Dhevi felt like a dream. The four of us were well taken care of, with a beautiful room, clean and refreshing pools, delicious multicultural cuisine, and a variety of activities fit for the whole family.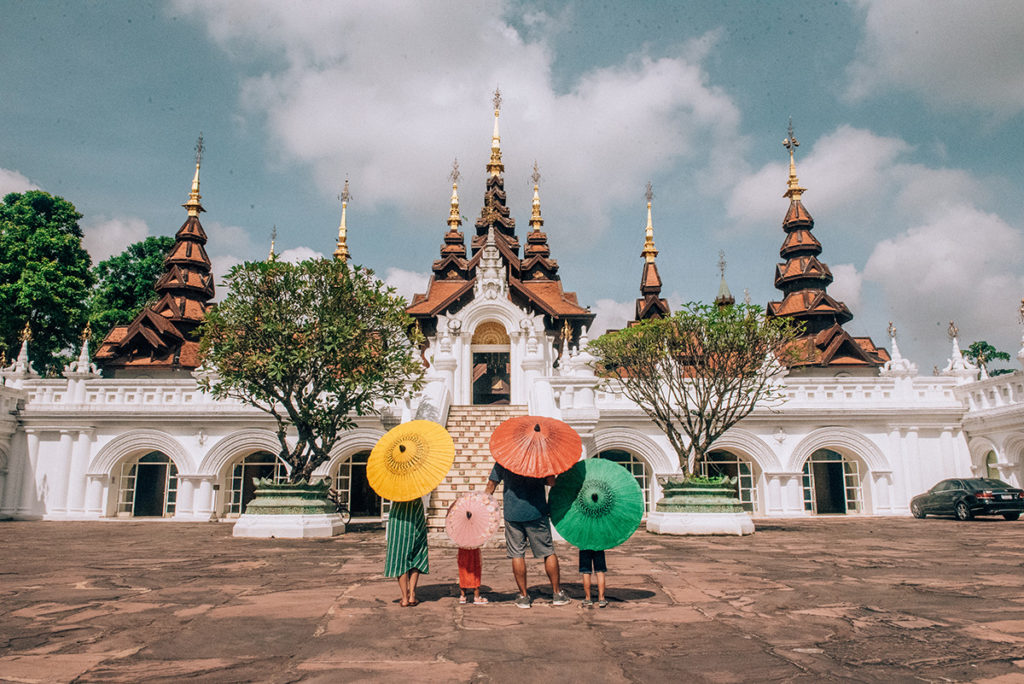 The Resort
The Dhara Dhevi could very well be its own city-within-a-city in Chiang Mai. You immediately see the scale of the place as you drive in, with the beautiful Lanna-style lobby at the center (which reminded us of a Thai version of the Disney Castle). The resort has everything you could ask for in a family getaway. They have daily buffet breakfast, a variety of food options (both Asian and Western), two large pools to splash around in, a fitness center and spa. There are also boutique shops for your shopping needs.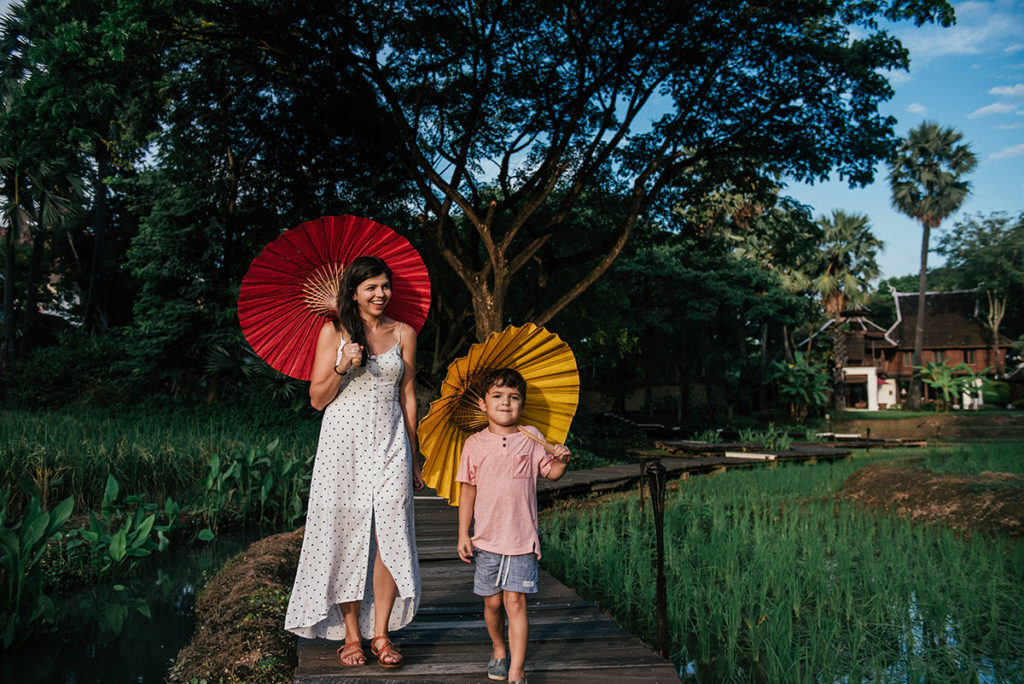 The Room
We stayed in a one-bedroom Deluxe Villa with Outdoor Jacuzzi and were conveniently situated next to one of the pools and the gym. The two-story villa had a living area on the main floor, and the bedroom was upstairs. In the room we had a king-size bed (where we slept with Nora) and a roll-away kids bed (where Santi slept). The Villa was incredibly spacious, the closet and master bedroom was huge, and there was even an outdoor shower on the second floor! Overall, we had a very comfortable stay, and also enjoyed some of our meals on the outdoor dining table next to the jacuzzi.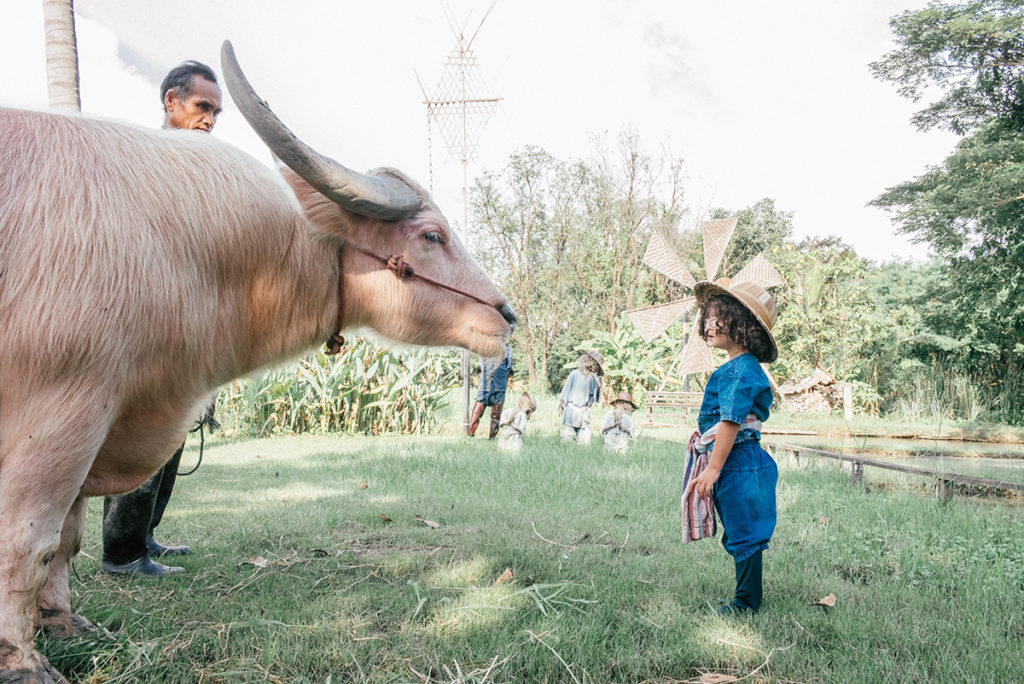 The Activities
The Dhara Dhevi publishes a weekly activity calendar, with multiple fitness, arts & crafts, and relaxation activities every day. Here are the activities we did while we were there:
Rice Planting
The rice planting activity takes place within the resort's own rice fields, only a few minutes away by golf cart. Before we began, we put on traditional Thai rice-planting outfits, and our guide escorted us to the rice fields, where we met with the farmers and got to get up close and personal with the Dhara Dhevi's own White Buffalo! We had an opportunity to plant rice stalks in clusters, and even got a surprise music show featuring the rice farmers and their own traditional Thai instruments! The experience lasted about 2 hours and was a perfect way to spend an afternoon at the resort.
Kids Club
The Lanna Kids club had a variety of activities for the kids to take advantage of during our stay. There were one-hour classes held regularly, from flag making, to postcard coloring, and many more arts & crafts activities. We were also able to drop the kids off for one hour of free play per day, which gave us some time to relax and enjoy the resort while the kids were taken care of. There's a small playground and a craft village next to the Kids Club as well.
Bike Riding
While you always have the option to call a golf cart to take you from place to place within the resort, we decided to check out bikes and explore the area at our own pace. My bike had a toddler seat for Nora, while Santi rode on the back seat of Jess's bike. We had a blast riding around the resort and experiencing the ponds, rice paddies, restaurants, boutique shops, and the rest of the resort grounds at our own pace.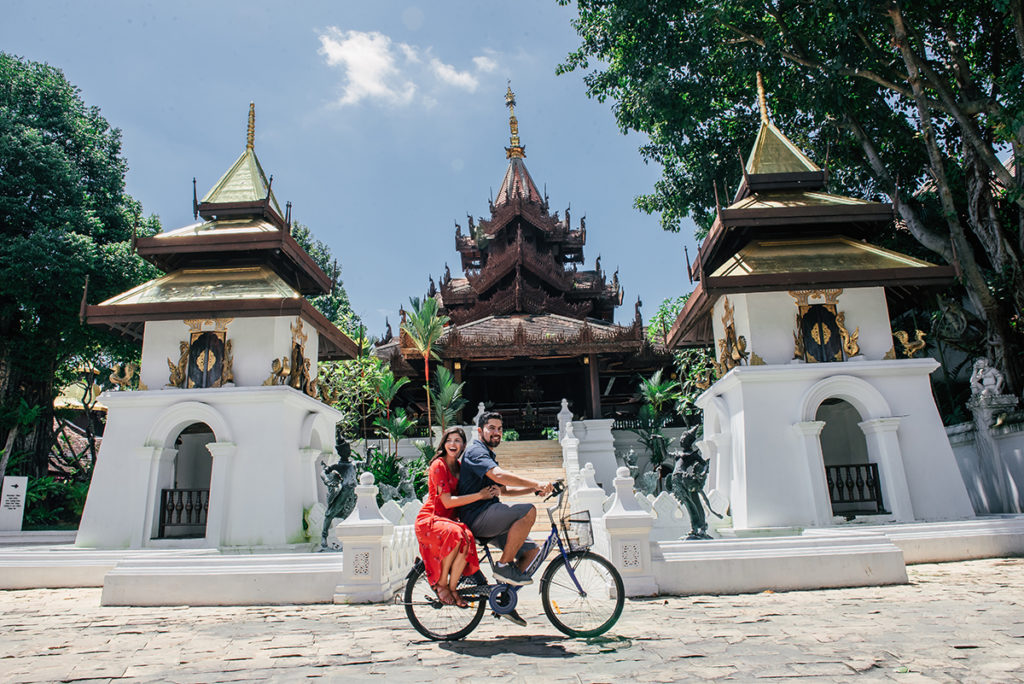 Thai Boxing
For those looking to work up a sweat, the Dhara Dhevi offers a variety of fitness activities. They have a gym with treadmills, ellipticals, weight machines, and free weights and also offer personal training services if you need them. We took the opportunity to experience a one-hour Thai boxing lesson for the whole family in the open area just above the gym. It's a bit of an understatement to say we worked up a SWEAT! Our trainer competed for the Thai Olympic team, and taught us (including Santi) the basics for how to throw punches, kicks, and knees. We each received one-on-one instruction and had an opportunity to hit the punching bag and pads throughout the hour. By the end of the lesson we were putting together punch-kick-knee combinations and loved every minute of it! Our bodies might not have been as enthusiastic the next day due to a full-body soreness from the lesson, but it was way worth it.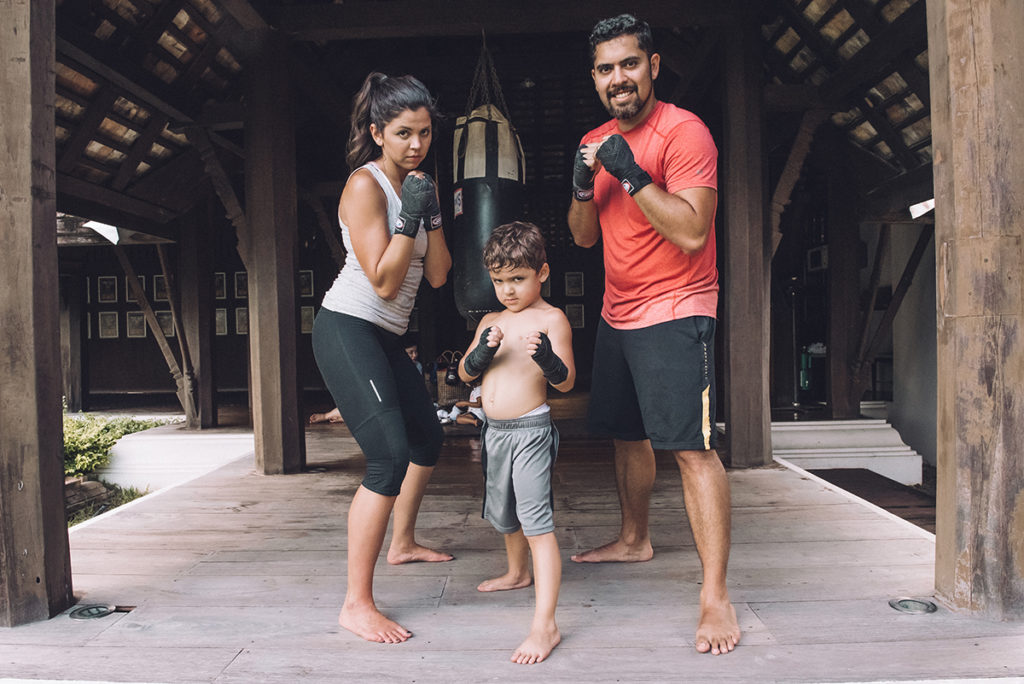 Watercolor Meditation Painting
This was one of the more unique arts & crafts activities we've done as a family. Our session was at the Dheva Spa, where we all sat around a low table and began with some controlled breathing exercises. Santi was game for the meditation piece, but Nora (being 2 years old) was pretty much ready to paint from the get-go! Painting in this room as as peaceful as it could get when you're doing it with 2 young kids! Our instructor was patient with our loud kids and helped us find meaning in the pictures that we were drawing.
The Food
The Dhara Dhevi has one of the most delicious breakfast buffets we've had! The fruit is extremely fresh, and all the options (from Asian to Western, eggs to noodles to pastries, and more) had us trying new meals every day we went. For lunch and dinner, your options as just as varied. There is are Thai (Le Grand Lanna), Italian (Allegro), Chienese (Fujian), French (Farang Ses) and International (Akaligo) restaurants to satisfy your every craving. There is also an extensive room service menu if you just want to stay in the villa and enjoy a meal inside or outside. There are also several bars near the pools and the lobby which offer beverages and snacks if you're nearby.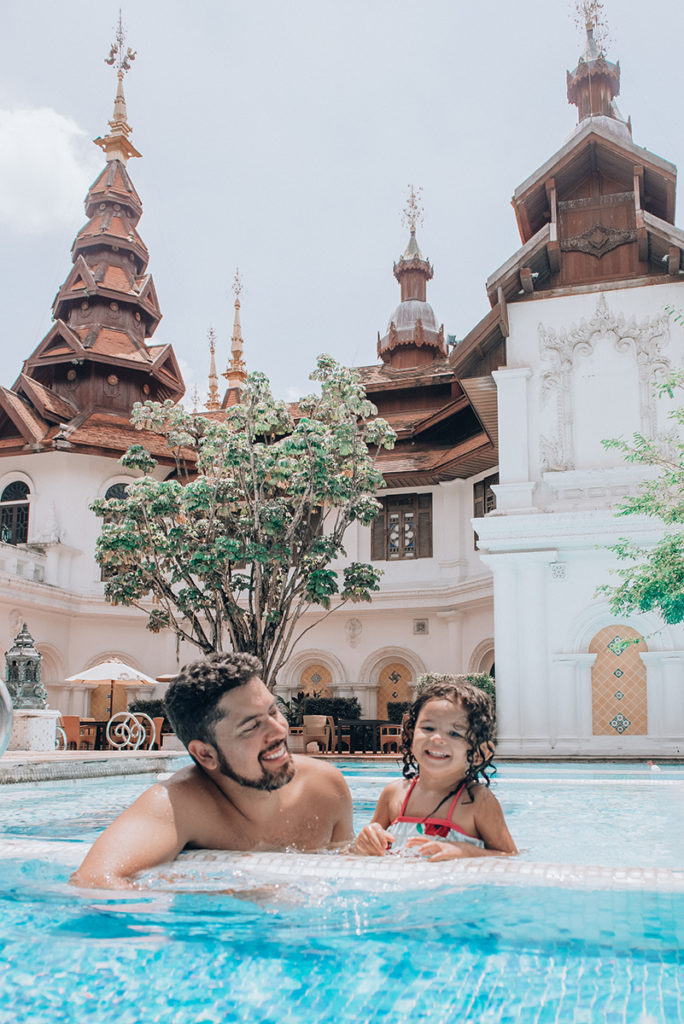 Bottom Line
We had high expectations for the Dhara Dhevi based on what we had heard about it prior to going, and we are glad to say that the resort went above and beyond to make us feel happy and comfortable. Our days were filled with a mix of activities and relaxation, and we definitely weren't ready to leave after 4 nights! If you're looking for a family getaway with plenty of activities within the resort as well as plenty more to do in the Chiang Mai city center, you can't go wrong with The Dhara Dhevi.
[The Dhara Dhevi resort hosted our stay. As always, all opinions are honest and our own.]