Our family has been blessed to live in one of the most beautiful states, Colorado! Colorado is a large state with multiple seasons a year. It has a wide variety of activities to choose from.  As we prepare to embark on our world travels, we wanted to make sure we really enjoyed our home to the fullest before departing. Therefore, we have spent the last few months touring our wonderful state and looking for the best activities for kids.  While there are so many amazing places to explore in Colorado, these are what we thought were the 13 best things to do in Colorado with kids!

The Glenwood Caverns Adventure, park located in Glenwood Springs, Colorado, really surprised us!  To get to the adventure park, you ride a 4,300-foot-long tram ride that is a gorgeous way to view the Rocky Mountains. Once you get to the top you are arrive at what looks like a cute town that is straight from the Wild West. There are TONS of activities that can take up a full day!  Our absolute favorite activity was the alpine coaster. It was both an adrenaline rush and incredibly scenic.  Santi loved the 4D-Theater and Laser Tag, and with an unlimited pass, he wanted to do each activity over and over. They also have a famous Haunted Mine Drop that is similar to Disney's Tower of Terror, but this one is an elevator that drops you into a mine shaft. All I can tell you is that it was extremely thrilling! There are tons of other outdoor rides that are open seasonally so your family can have the best time all day.  The Park also has cave tours that take you into the mountain for a 40 minute walking tour and it seems like a whole new world! To end your day with some relaxation, be sure to check out the local hot springs that are just a few minutes away from the tram base!
For more information: Glenwood Springs Adventure Park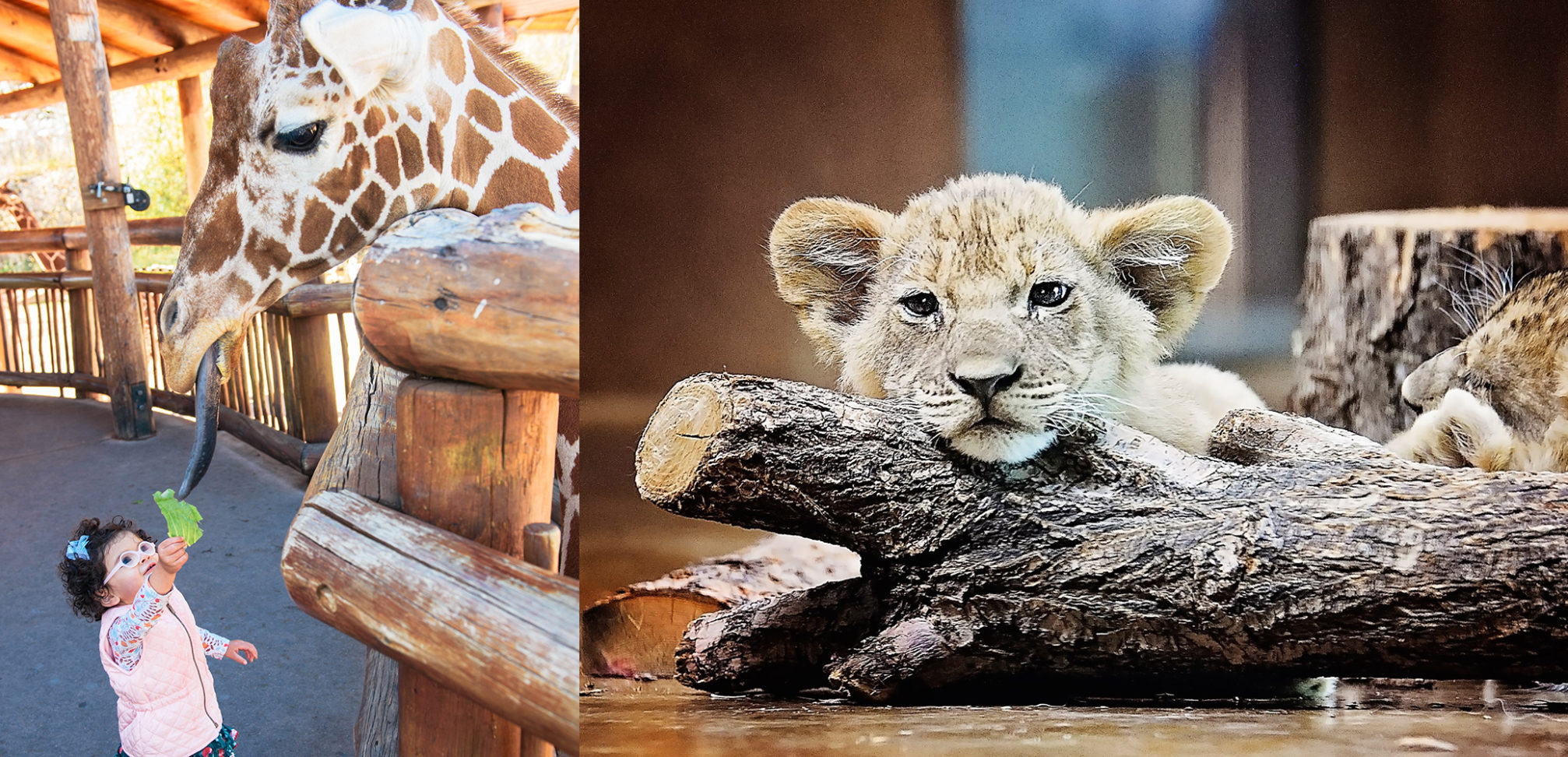 The Cheyenne Mountain Zoo is always a fun outing for kids! Cheyenne Mountain is home to America's ONLY mountain zoo. It is located at 6,800 feet above sea level, offering incredible views of Colorado Springs throughout! Due to its location, part of the zoo does have some hills to climb so if your little ones get tired easily we recommend a stroller.  One of the most famous exhibits there is the giraffe exhibit, where for $3 per handful of lettuce, you can feed and the giraffes. It is truly an amazing experience.  If you come during the holidays, also check out their special events: from Boo at the Zoo (where you trick or treat there at night) to their Electric Safari around Christmas time (where the zoo is lit up with lights).
For more information: Cheyenne Mountain Zoo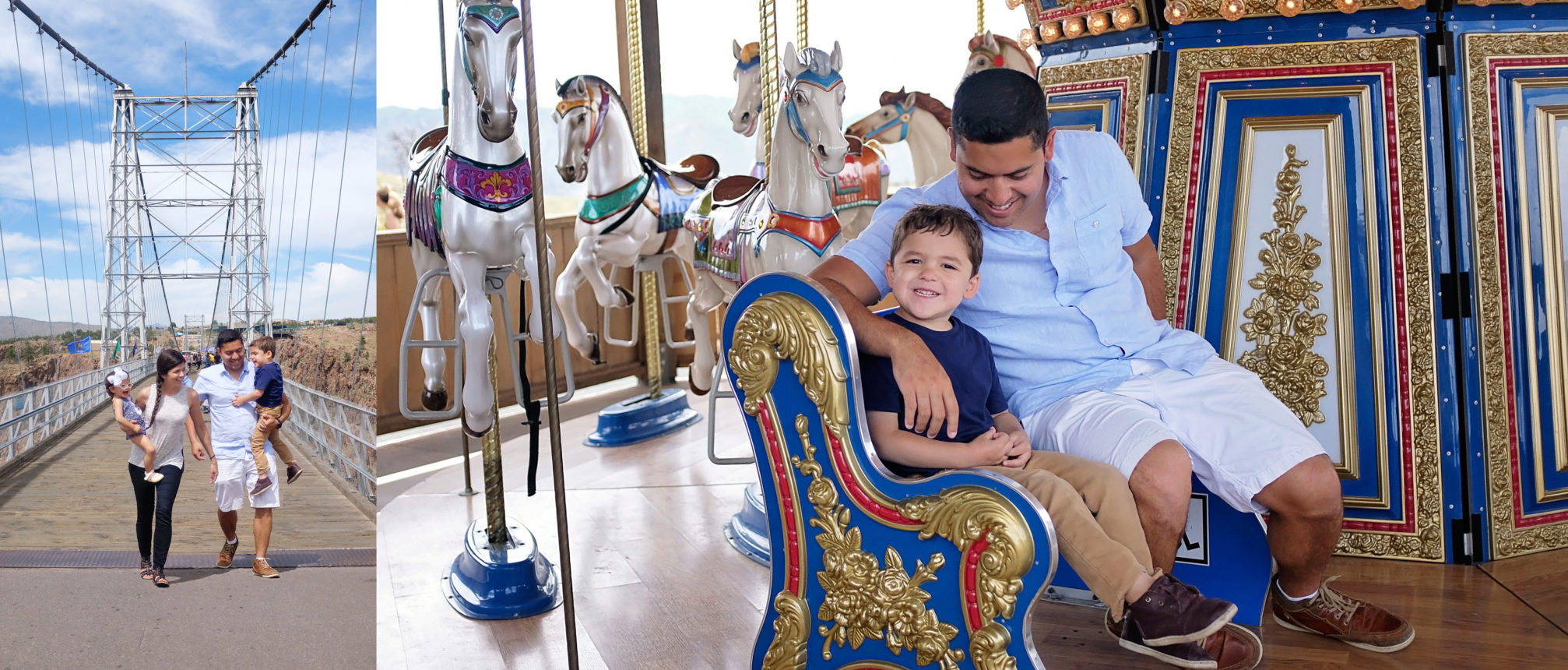 The Royal Gorge Bridge was a lot more fun that we anticipated, as we had no idea that there are a ton of activities to enjoy on the other side of the bridge! The bridge stands 956 feet above the wild Arkansas River and has amazing views in every direction.  You can walk across the bridge or take a gondola ride across for a fun experience. Once you arrive on the other side of the bridge there are tons of attractions to choose from!  There is Tommy Knocker Children's play land that hosts a carousel, splash park, gold panning, and an incredible 3 story play structure.  For older kids and adults they offer ziplining on the highest zipline in North America. They also have the sky coaster, which dangles you 1,200 feet above the Arkansas River. Finally, they often have outdoor concerts for the entire family, which is perfect for dancing and a good time. Overall, the Royal Gorge Bridge had something for everyone and was a fabulous outing for our family!  If you would like to check out our time at the Royal Gorge Bridge head on over to our video! 
For more information: Royal Gorge Bridge 

The North Pole is a magical experience for young kids where the spirit of Christmas lives on from May to December!  This amusement park is best for younger kids from 2-8, as the rides are definitely geared for a younger audience.  We adore that the park still has an old school charm to it that brings a lot of nostalgia of our own childhood.  We also love that the park is the perfect size, making it easy to walk, but never seeming too crowded.  At the North Pole you can go on rides, watch shows, meet Santa, and feed his reindeer.
For more information: The North Pole

Glamping (aka glamorous camping) was always very high on our bucket list of things to do. This glamping spot in Carbondale, Colorado was even better than we expected! Carbondale is a small cute town just 40 minutes outside of Aspen and this glamping spot was located on a beautiful farm. This tent was meant for 2, but it actually worked well with 2 small kids.  They have a yurt and other tents at the same location that are meant for more people, but something about this one seemed special to us.  Right in front of this tent was a lake for the kids to fish (catch and release) and there were a lot of animals to visit with throughout the farm.  Another perk to this location is there is an adorable barn where artist work that is open to visit during the day.  The barn also houses the bathrooms and showers that are available 24 hours.
For more information: Glamping 

Cave of the Winds may be our favorite spot in Colorado Springs if we are looking for a fun and thrilling day with the kids.  The entire family can experience a fun Cave tour that is a 45 minute walk where you learn geology and the cave's history.  There are longer caving experiences available as well, but have age limits for those looking for more time in the cave.  Also, for all ages they have panning for gemstones and a large adventure slide.  For children 42 inches and taller, they offer the Wind Walker Challenge Course, which is a 3 story ropes course that goes over the edge of Williams Canyon. They also have the Bat-A-Pult, which is a 1,200 foot thrill ride that reminds me of a seated zipline.   For those that are 48 inches and taller, the Terror-Dactyl is by far the most thrilling outdoor adventure ride in Colorado. It literally drops you straight down into the canyon, and is truly an experience you won't forget! Keep in mind that some of the outdoor activities are weather-dependent. Overall, there is a little something for every age and any family that checks out Cave of the Winds will have a fun experience.
For more information: Cave of the Winds 

If you want a jam packed week full of fun for both you and the kids then the Majestic Dude Ranch is the place to go!  It is similar to the perfect summer camp for every age group!  Every day is jam-packed with activities you can choose from, including: horseback, archery, skeet shooting, petting zoo, swimming, paint ball, fishing, 4 wheeling, hiking, biking, and white water rafting to name a few.  They even have a kids club with counselors to entertain all of the kids from morning to night and tire them out with loads of fun.  Every meal was included and each one was as delicious and filling as the next!  We had the most incredible time bonding as a family and exploring the ranch and can't wait to go back!
For more information: Dude Ranch

Garden of the Gods Park is a registered National Natural Landmark. It's stunning rock formations and beautiful trails are a must see if you come to Colorado.  We have been lucky to live close to Garden of the Gods so we go often.  The kids absolutely love climbing on the formations and going on what they call "adventure hikes."  No matter how often we visit this beautiful landmark, it never seems to get old and the kids are always excited to come back!   Parking can sometimes be hard to find depending on the time you visit, but is definitely worth the wait as walking Garden of the Gods is the best way to have a fun experience.
For more information: Garden of the Gods

The Great Sand Dunes National Park is home to the tallest sand dunes in North America.  The Sand Dunes are a natural playground where kids can sled. If you go in May or June, they can play in Medano Creek as well! When we went, there wasn't enough water to tube the creek, but our son had a blast playing in the mud and splashing around. If you head to the sand dunes, here's a few things to pack: baby powder (to remove sand), extra clothes, and glasses or goggles as it can get windy and if the sand gets in your kids eyes it may ruin their fun.   Also note that you can't rent sand boards at the actual park. They must be rented before you arrive so check out places where rentals are available and stop on your drive to the park.
For more information: Great Sand Dunes National Park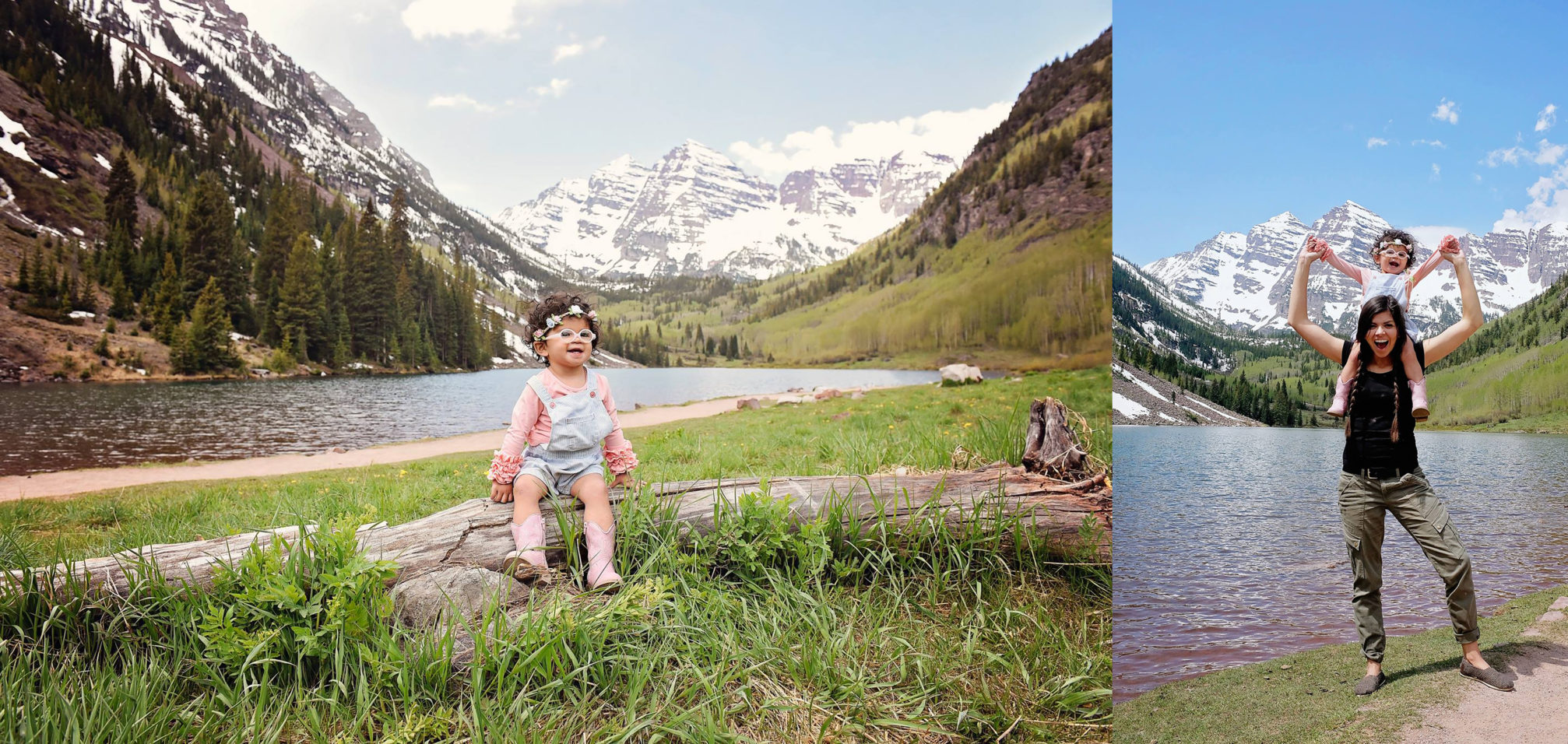 Maroon Bells is truly one of the most beautiful places to stop for a hike in Colorado!  The Lake is surrounded by 14,000 foot peaks and incredible hiking trails.  If you go first thing in the morning at sunrise, the lake creates the most gorgeous reflection of the peak and makes for incredible photography.  Our kids loved running around the flower fields and throwing pebbles into the lake while we soaked up the incredible views.  The easiest way to get to Maroon Bells is via a bus from Aspen or Snowmass, as the parking lot is typically full and not available to everyone.  If you have a little one in a carseat (not a booster seat) or are handicapped you are permitted to park on site.  Also note, Maroon Bells is open seasonally: typically from May to November.
For more information: Maroon Bells 

Tubing and sledding when visiting a snowy location are a way to guarantee your kids will have a smile!  There are various places to tube throughout Colorado in winter and prices vary depending on location and whether they provide a conveyor lift to get you back up after your ride down. We love tubing at Keystone and it is also a short drive away from Dillon, Colorado, which has the most amazing Ice Castles for kids to explore. You can also do a fabulous winter horse sleigh ride!  Check out our video showing a fun action packed day in the region!   Of course, you can also enroll your kids in skiing classes and enjoy a day on the slopes. If you would prefer to save money, stop by a Walmart, pick up a sled, and find a snowy hill along your way or just build a snowman!  No matter what you choose to do in this cute mountain town during winter, your kids will have the best time and you will have fun memories to cherish!
For more information:KeyStone Colorado 

Pike's Peak is the most visited mountain in North America and the second most visited mountain in the world behind Japan's Mount Fuji.   At an altitude of 14,115 feet above sea level, you can experience Pike's Peak by driving or by taking a train.   We personally love driving up because there are so many beautiful places to stop and hike along the way!  There are not official activities or rides at Pike's Peak, but if your family loves the outdoors and wants breathtaking views, we definitely recommend making it to the top! If you do make it to the top be sure to visit the Summit House gift shop and treat yourself to "World Famous Donuts!"
For more information: Pikes Peak

The Manitou Cliff Dwellings are made up of Anasazi Ruins that date back 800 to 1,000 years.  The 40-room site was originally located in McElmo Canyon, which is in the southwest corner of Colorado near Mesa Verde and Dolores. The process of relocating these cliff dwellings began in 1904 and was completed in 1907 when the preserve was opened to the public. They offer a fun place for kids to run and explore while being able to learn about history!   Our kids loved exploring all of the rooms and climbing the ladders along the way.  The Manitou Cliff Dwellings are not that big in size, so they can easily be explored in an hour or less. We love packing a picnic when we go to enjoy after we spend some time exploring.
For more information: Manitou Cliff Dwellings
We hope that you enjoyed our list and make it to Colorado to experience all of the incredible places that it has to offer!  Leave us a comment of which place you love to explore most in Colorado or where you would love to visit!