During our trip to visit my (Rod's) family in San Diego, we were invited by the Hilton Bayfront to attend the opening ceremony for their "Holiday by the Bay" event. I mean, who doesn't love holidays, and who doesn't love bays, right??? 😉 We graciously accepted and were really glad we did!
Skate by the Bay
The premier activity for Holiday by the Bay is its ice skating rink, and the opening ceremony truly set the stage for a wonderful skating season, which runs from November 24 until January 1, 2018. Representatives from the hotel, the San Diego Mayor's office, and the USO cut the ribbon to officially kick off the celebration. A portion of all proceeds generated by ice skating ticket sales will be donated to the San Diego USO, which does charitable work in support of military members and their families!
Skating on the rink itself was smooth as butter. However, since San Diego is not quite the cold weather climate town, many of the participants aren't the best ice skaters 😝. I'm not the best ice skater either, so just don't expect a lot of professional figure skating at the rink while we're there, haha! Seriously though, it's a ton of fun and it's also great to be able to ice skate in non-freezing temperatures as well.
Dates and Times:
November 24, 2017 – January 1, 2018
November 24 – December 17: Monday – Friday, 4pm-10pm; Saturday – Sunday 12pm-10pm
December 18 – January 1: Monday – Sunday, 12pm-10pm; Christmas Day 4pm-8pm
Pricing:
$20 Adult | $15 Kids Ages 5 & Under | Military & Family receive $5 Off
$95 Adult Season Pass | $75 Kids Season Pass Ages 5 & Under
There's also many themed nights where you can wear costumes, participate in trivia, and more. Check it out!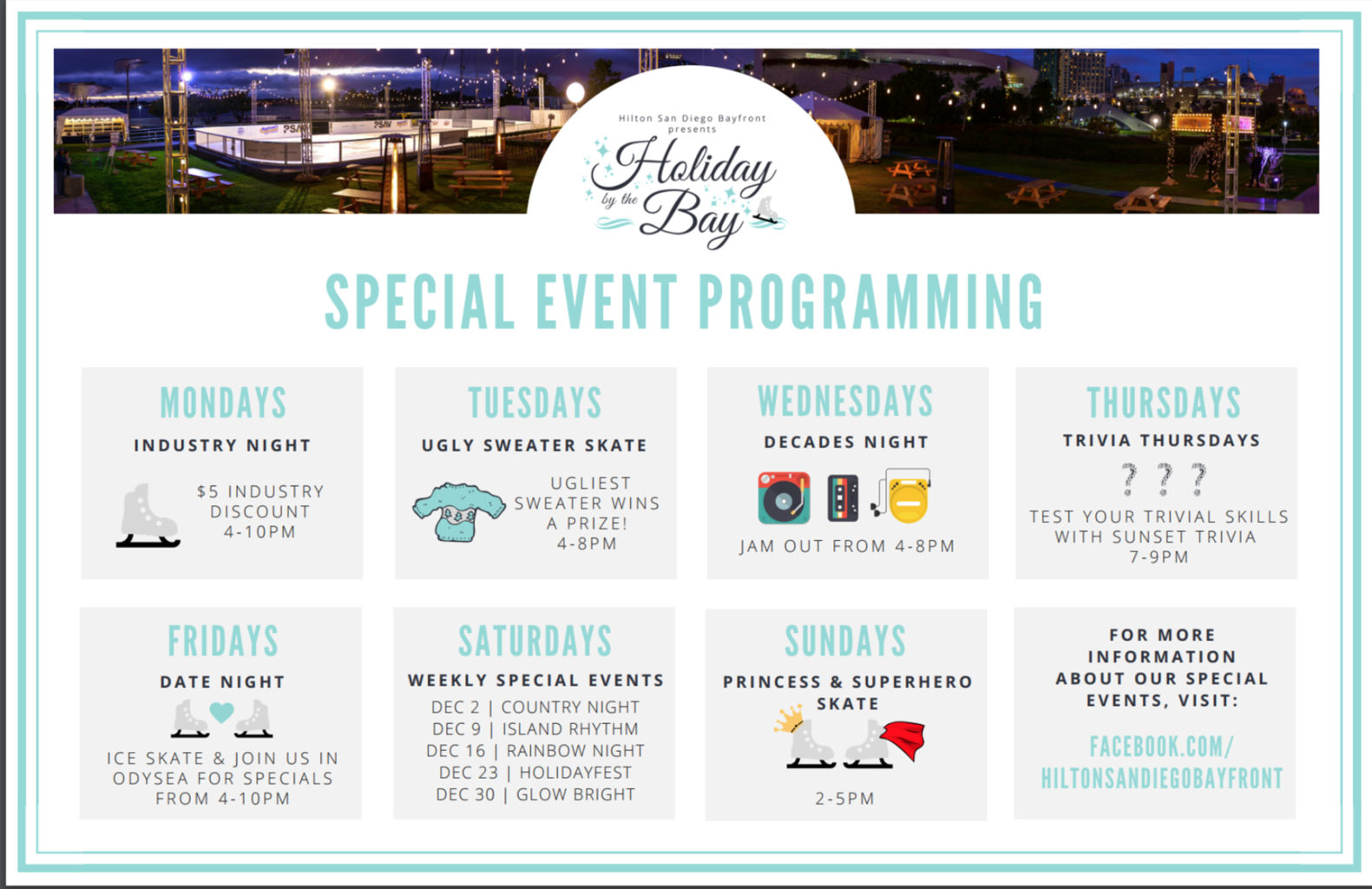 Mini Golf by the Bay
If ice skating is not your thing, right next to the ice rink you'll find a sweet little mini golf course to showcase your putt-putt skills! It's a 9-hole course called "Rudolph's 'Tees the Season' Mini Golf" and it's a fun little family experience.
Movies by the Bay
The Hilton Bayfront will also be providing quality family entertainment with an Outdoor Movie Night every Saturday at 7pm. Enjoy classics like Elf, The Nightmare Before Christmas, How the Grinch Stole Christmas, The Polar Express, and Frozen. Warm blankets are provided and popcorn & other snacks are available for purchase. It's a great opportunity to experience a beautiful atmosphere while enjoying a flick with the family.
Overall, the Holiday by the Bay activities are worth checking out for families of all ages and sizes. The ice skating rink is a fun experience and the decorations and atmosphere that the Hilton Bayfront put on are top notch. Have a great time!
For More information and their nightly "themed" ice skating schedule check out their website:
http://www3.hilton.com/en/hotels/california/hilton-san-diego-bayfront-SANCCHH/attractions/holiday-by-the-bay.html
Do you Love this Post? Save it on Pinterest