As we walked around Legoland California and it's endless assortment of wonderfully-crafted LEGO creations, all I could think in my head was: "EVERYTHING IS AWESOME!!!"
That song perfectly encapsulates our Legoland experience. The Master Builders there pay such good attention-to-detail to the park's decorations so it's easy to get immersed in the atmosphere. Anyway, here are the highlights from our adventure there!
LEGO Friends Heartlake City
Our first stop at Legoland was at Heartlake City, where we immediately encountered a show at the Friends Forever stage. We're not fully up to speed on all the LEGO characters, but the amount of energy they brought while they sang their songs got us excited for the rest of our day!
After watching the performance for a few minutes we went into one of the many playgrounds found at Legoland. This one was called DUPLO Playtown, and it had plenty of little obstacles and games for both Santi and Nora. They also got to ride the Legoland Express, a neat little train that took them on a quick ride around the Playtown. We probably could have stayed here and let the kids play all day (a common theme for the day), but alas, we had to move on!

Fun Town
Let me tell you, Fun Town is where it's at for toddlers! Santi got to do the Junior Driving School. There he was considered the "cool kid" for having a GoPro mounted to his arm while driving, haha! Santi, in his usual competitive self, asked if he won the race (it wasn't one). You totally won, buddy, you totally won! 😉😉
There's plenty of other rides in Fun Town like the Kid Power Tower and Sky Patrol, but Santi totally wanted to check out the Adventurer's Club. This is more of an exhibit and scavenger hunt rolled up in one. He had to look around for keys that would solve the mystery, but he was more drawn to looking at all the cool LEGO creations. When we got to the end there's a little display of all the keys that were hidden throughout the Club, and Santi the genius simply said: "there's all the keys! I found them!"
As we exited Fun Town (yep, it really was FUN!) we were bummed that the Water Park was closed for the season. But, that gives us a reason to check out the park next year!
Castle Hill
We got a bite to eat at the Knights' Smokehouse BBQ to kick off our time at Castle Hill. This was an a-la-carte cafeteria-style restaurant where we got to pick out our choice of meat, sides, and dessert. Just about all of the things we had were a bit pricey, but delicious! It filled our bellies and got us ready to experience "The Hideaways," another playground.
This one is a little different than the DUPLO Playtown in that it was designed as a massive three-story fort. Santi and Nora had a great time exploring it! There were plenty of hallways, stairs, slides, obstacles, and rope ramps. Nora's word of the month is "ssslide," so she went down the slides dozens of times and probably could have gone dozens more times if we didn't have the rest of the park to explore!
After The Hideaways, Santi was ready for some thrill rides! I mean, what's a theme park without rollercoasters, right?? And Castle Hill has an awesome one called The Dragon Coaster. Unfortunately Nora was too short to experience this one, so she and Jess went off to another playground while Santi and I braved the 15-minute line. And it was definitely worth the wait! The Dragon Coaster is catered towards younger children and was extremely smooth. After a few calm moments inside a castle, we went up the coaster ramp and the thrills began! This rollercoaster had plenty of ups and downs, but none too fast or too sharp to scare off a 5 year old. Santi was excited to experience The Dragon Coaster, and I think he's going to be a thrill seeker for sure!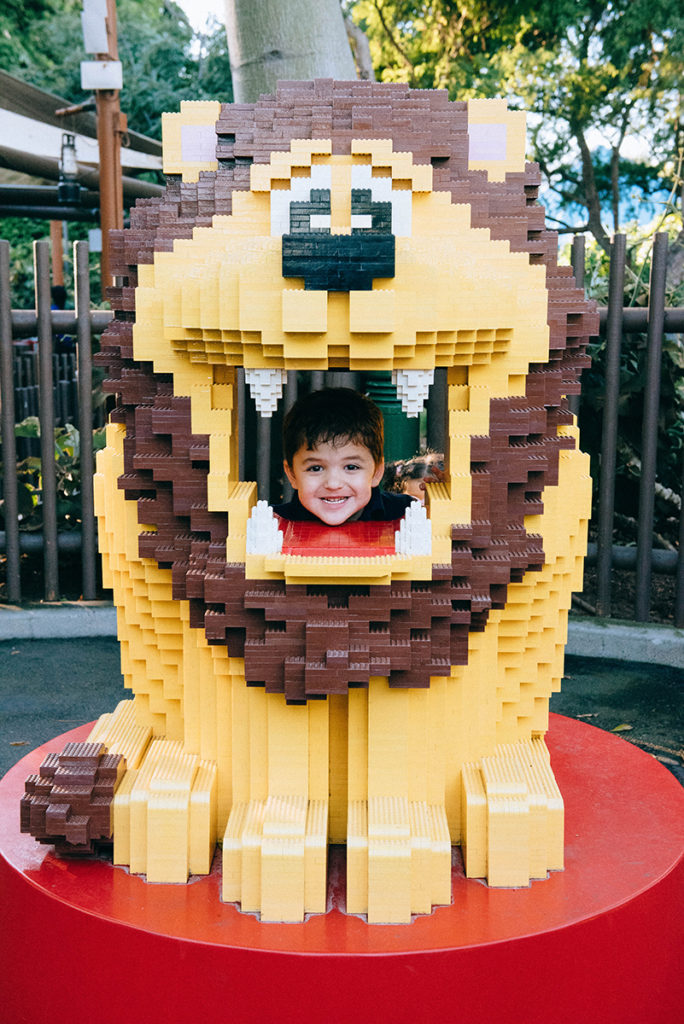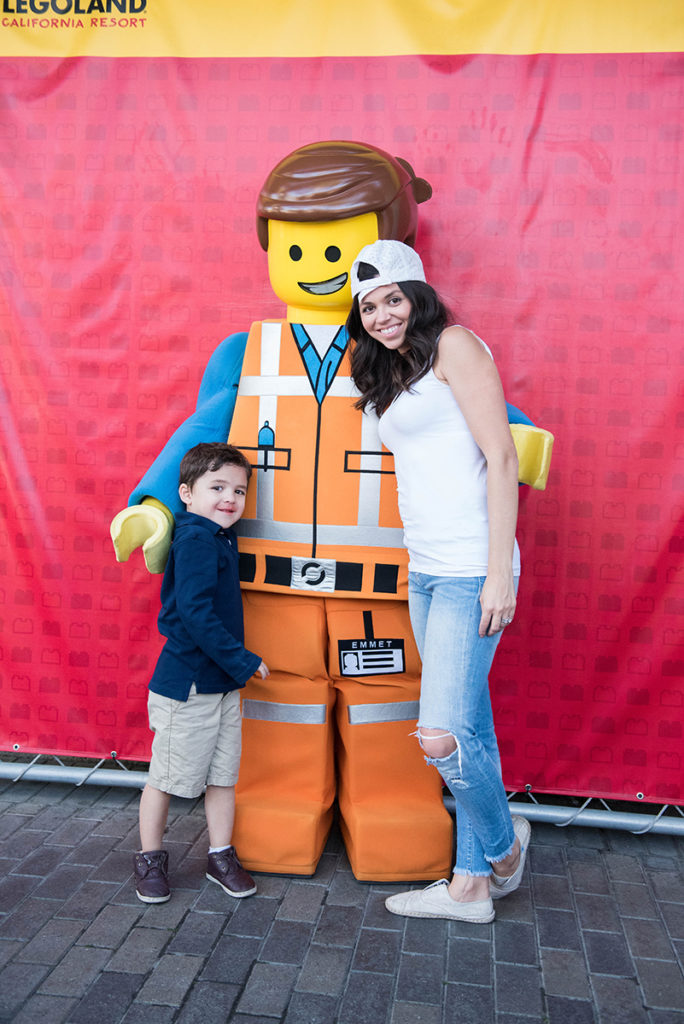 Imagination Zone
After running around Castle Hill and riding the coaster, the kids were ready to relax for a bit, and Imagination Zone provided that brief break! Nora and Jess went into the DUPLO Play area, where she got to sit in a pool of DUPLO blocks and build to her heart's content. Santi and I went to the GameSpace, where they had a bunch of LEGO videogames available to play. Santi, a budding videogame aficionado, was thrilled to play these games and likely could have sat glued to the TV for hours. However, Legoland had plenty more for us to see so he played for about 15 minutes, rested up and we left for what I would say is the most impressive section of Legoland: Miniland USA.

Miniland USA
Earlier I mentioned how the Master Builders at Legoland meticulously crafted a distinct theme park experience. And I would call Miniland USA their masterpiece. Situated in the middle of the park, this is a must-see display at Legoland. American cities such as Washington D.C., San Francisco, New York City, New Orleans, and Las Vegas are depicted in arrays of LEGOs and Minifigs. It is simply SPECTACULAR!
Each city replica captures the unique landmarks and magic that makes each of those cities great, and I personally had a great time telling Santi about my experiences at each of those cities in real life. I'm convinced Santi will go to all of those cities in the near future and this served as a great introduction to each of them! Also, each city had plenty of interactive sections where pieces would go into motion after pressing a button. Conveniently enough, Nora is OBSESSED with pressing buttons at this point in time, so she had a blast going from exhibit to exhibit pressing each of the interactive buttons and seeing buildings light up, minifigs dance, etc.
Back to The Beginning
After Miniland USA, we found ourselves having completed a full lap around the park and back at "The Beginning." The sun was starting to fade and the park would be closing in about an hour, so we didn't have time to visit some of the other themed sections of the park. We missed out on LEGO NINJAGO World, the Land of Adventure, the Pirate Shores, and Explorer Island. We'll be sure to check those out on a future visit!

Bonus: The Sea Life Aquarium
As we got back to the entrance we remembered that we also had tickets to the Aquarium, which was conveniently located right where we were. And it was a cool experience! Santi and Nora had fun checking out each of the exhibits. One unique factor was how the Aquarium incorporated LEGOs into each of the different exhibits. Nora had fun going to each one, pointing, and saying "fishies!" while Santi was able to start reading some of the descriptions of the sea life in the exhibit.
Overall, we had a blast at Legoland California, and the park if definitely large enough to experience over multiple days. And did I mention they're also building a Castle-themed hotel that will open in 2018? If you're in the San Diego area and are looking for a fun adventure for the family, check out Legoland!
[We received two complimentary passes to visit Legoland California. We purchased one additional pass and paid for our expenses inside the park. Our opinions are solely our own and  accurately reflect our feelings about the park!]